I'm excited to announce that I am now a podcaster! I'm a contributing host for the Yoga Health Coaching Podcast and my first episode has just been published. I hope you enjoy it!
In this episode, Alex Biondo and Rachel Peters talk about the ways in which Yoga Health Coaches are becoming community leaders. Alex and Rachel rap about how leadership is a natural evolution of a Yoga Health Coach's journey. Rachel shares how she became comfortable with stepping into the role of leader by recognizing and aligning with her natural strengths. As someone who's been known for years as a successful yoga teacher, her identity is evolving into someone who supports others on their wellness journeys and as a coach and collaborator.
What you'll get out of tuning in:
How Yoga Health Coaches become wellness leaders in their communities
How recognizing and utilizing our natural talents makes us better leaders
How mesh networking and collaborating are the new leadership models
Links Mentioned in Episode:
Show Highlights:
2:30 – What is the difference between community building and community leading? Rachel has been building a yoga community for years, and she talks about how she made a mindset shift and got comfortable stepping into the role of leader.
5:00 – Rachel recently felt sparked to step into leadership and is now making an impact both locally and with her online national (soon to be global!) community.
8:00 – When we recognize our natural strengths, we lead others with more ease. Rachel talks about showing up as her authentic self and focusing on her strengths and desires, which, in turn, leads the right people to find her.
11:00 – For many of us, leadership starts at home. When we live in integrity, the first to notice are those closest to us. They often pick up the reins and take the lead, as Rachel's husband Dan likes to do. He's now an avid forager!
16:00 – What Yoga Health Coaches do has a ripple effect. We touch others in many ways. As people learn what we do, we become a face of holistic wellness in our communities and often end up helping people who aren't even our clients.
19:30 – What does the next step of leadership look like? Collaboration and mesh networking. Rachel talks about how she works with other wellness leaders in her community.
Favorite Quotes:
"I lead from my strengths, rather than having to cultivate new ones" ~Rachel Peters
"A sometimes unintended consequence of becoming a Yoga Health Coach is that we are becoming community leaders." ~Alex Biondo
Guest BIO: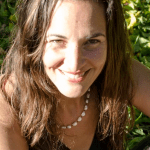 Rachel's – As a Certified Yoga Health Coach and the Founder of Embody Ease and the Easeful Living Community, Rachel leads women on a yearlong journey to dissolve perfectionism and embody daily habits that promote clarity, ease, and inner connection. She is a wife, mom, and lover of wild places and contributes to her local community as a yoga teacher and teacher trainer in Prescott, AZ she also serves as the leader of the Coaching Team at Yogahealer. Check her website and facebook page.